Science
Wherever you look, whatever you do and wherever you go, science is all around us.
Human nature is to be curious about the world we live in and children enjoy being curious and inquisitive. From an early age children ask the question 'Why?' As parents and teachers we may not always have the answers to these questions but it can be fun trying to find out and make sense of what is happening all around us.
Primary Science is split into four areas:
Scientific Enquiry

Life Processes and Living Things

Materials and their Properties

Physical Processes
We have main concept threads weaving through the science curriculum: What makes it change; What makes it live; What makes it go.
Scientific enquiry is the area that the children seem to enjoy most. Discovering things for themselves, rather than being told, is a great way to learn in a meaningful way. It's not always finding out why things work but also learning from why things don't work.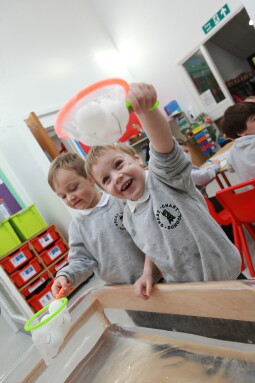 Science Visitors to School 
In Year 1 the children have learned about 'Dinosaurs'. They looked at fossils and the Life of Mary Anning. They were lucky enough to have a visit from a dinosaur museum where they touched and held real fossils and had a visit from Sophie the dinosaur!
Year 1 and 5 were lucky enough to have a visit from Libby Jackson who is a British space exploration expert who works for the British Space Agency. This helped the children with their topic work on Space and Explorers.
The whole school had a First Aid Course run by a lady from FAB First Aid.  They learned CPR, how to use a defibrillator, how to care for bumps, bleeds and burns.  They also learned what to shout and who to call in an emergency.
Visits to our Local Area
As part of their Science and Seasonal Change, the children walked around the nearby Singleton Lakes, identifying signs of the Seasons.
School Gardening
Gardening is the study of life. The simple act of caring for living soil and plants gives children a foundation for understanding the principles of birth, growth, maturity, death, competition, cooperation and many other lessons that transfer to human lives. In Great Chart  School garden, children experience these lessons 'hands on' through a learning method that is rich and inclusive to varied learning abilities.