History
History is the study of people in the past and how their actions have influenced our lives today.
History can help children to make sense of the world in which they live and can help them to develop a sense of identity. Our aim is that the children should understand that the society, in which we live, has been shaped by developments in the past. They will learn about the role of individuals, events and movements that have played in moulding modern society. By studying historical source material, the children will be encouraged to ask questions, deduce information and solve problems through an investigative approach. Pupils will also be trained to evaluate short and long term consequences and will be informed about how source material might not always be reliable or may be subject to bias, propaganda or censorship.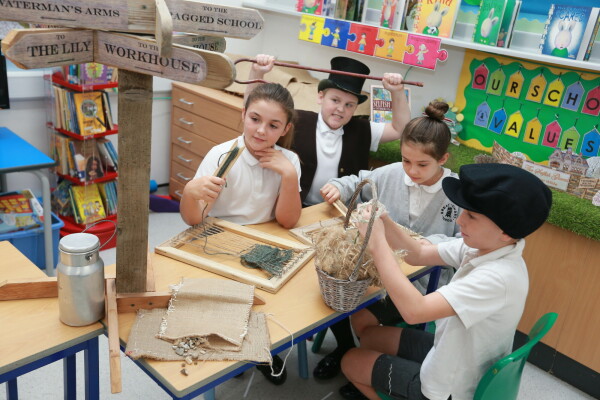 At Great Chart Primary School the school follows the National Curriculum Programme of Study document, which lays down a variety of approaches applicable to each unit of study. In this way all skills are covered and developed according to the requirements and it is left to the teacher to identify his/her area of focus and to consider how best to deliver these sessions; taking into account all types of learning models. The timetable is organised in Key Stage 1 and 2 to ensure History is covered throughout the year. Some year groups might choose to teach this as a block or as an afternoon activity as it allows for greater in-depth study. In some cases, Year groups have chosen to study History in alternative terms, alternating with Geography. Discrete History lessons are to be taught to ensure that the skills, specific to the subject are delivered.
At both Key Stages the emphasis is upon developing investigative skills through the study of a particular period, event or famous person. Links are made with other subjects: this is encouraged but only where this benefits learning in both subjects. We have main concept threads weaving through the  history curriculum: Conflict and Invasion; Similarity and Difference; Cause and Consequence; Diversity and Discrimination; Civilisation and Society; Chronology; Evidence