Physical Education
Through PE we aim to encourage a lifetime love of sport and keeping fit.
Our PE and sport aspires to build determination, passion, respect, honesty, self-belief and teamwork. These values will endeavour to:
Improve health and well-being.

Provide a broad range of high quality opportunities and outcomes for all.

Encourage community involvement.

Promote active participation and competition at all levels.

Raise achievement and supporting excellence.
Our main concept threads for PSHE are: Identity and Relationships; Healthy Lifestyles; Risk; Diversity and Equality; Rights, Responsibilities and Consent; Change and Resilience; Power; Career. 
In Early Years Foundation Stage opportunities will be provided for children to be active and to develop their co-ordination, control and movement through moving and handling activities which involve the use of a range of equipment and involve different spatial experiences. Structured lessons and opportunities for outdoor physical activity will last at least 2 hours each week.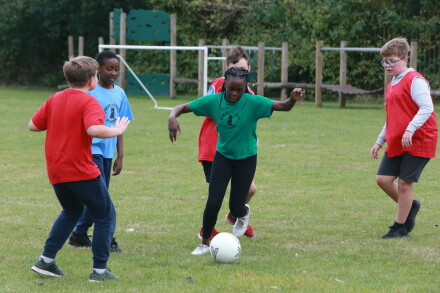 Pupils in both KS1 and KS2 will engage in lessons of high quality PE each week. In KS1 the curriculum focuses on fundamental movement skills to develop agility, balance and co-ordination. Curriculum content includes ball skills and team games, gymnastic and dance activities. At KS2 pupils will continue to apply and develop a range of skills and units of work which include a range of invasion, net/wall, and fielding and striking games, gymnastics, dance, athletics and swimming. Children's experiences will also be enriched through opportunities for outdoor and adventurous activities. A range of resources will be used to support progression across the curriculum including: Rising Stars Scheme, and specialist coaching sessions for different sports.