English
Reading, writing, speaking and listening together form the key components of human communication.
We learn from one another through our ability to communicate, and so it is undeniably true that English lies at the heart of all learning at Great Chart Primary School.
Intent
We aim to develop pupils' abilities within an integrated programme of Speaking & Listening, Reading & Writing.  Pupils will be given opportunities to interrelate the requirements of English within a broad and balanced approach to the teaching of English across the curriculum, with opportunities to consolidate and reinforce taught English skills.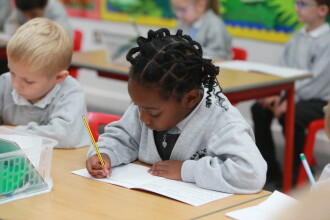 Implementation
The school uses a variety of teaching approaches to cater for the variety of learning styles of pupils in English lessons.  Our principle aim is to develop children's knowledge, skills and understanding in English. We do this through a daily lesson that has a high proportion of whole-class and group-directed teaching.  During these lessons we encourage children to ask, as well as, to answer questions. They have the opportunity to use a wide range of high quality resources such as narrative, poetry and non-fiction texts as well as visual texts to support their work.  Children use ICT in English lessons where it will enhance their learning. The school's approach to planning ensures that the cycles of review, teach, practise, apply and evaluate are integrated into planning and teaching.
In all classes there are children of differing ability.  We recognise this fact and provide suitable learning opportunities for all children by matching the challenge of the task to the ability of the child.  We achieve this through a range of strategies – in some lessons through differentiated group work, and in other lessons by organising the children to work in mixed ability pairs or groups on open-ended investigations and analysis. 
We use Teaching Assistants to provide appropriate support to individuals or to groups of pupils.  Teaching Assistants within our school are viewed as an important asset to the school and, as such, are appropriately involved in the planning and delivery of the English curriculum.  They run interventions where appropriate to support groups of children and on a 1:1 basis. Their knowledge, skills and understanding are constantly updated through involvement in school-based and LA led Inset.
All children in our school will have full access to daily English lessons.  Any additional support that is required will take place either during the session, or at other times during the school day as appropriate.
Any SEN provision or other individual programmes will be linked, where appropriate, to suitable year objectives, for example: ELS and Toe by Toe.
Impact
The English curriculum ensures that the needs of all pupils including SEND and disadvantaged, and small groups of children, can be met within the environment of high quality teaching supported by targeted interventions where appropriate.  In this way it can be seen to be impacting in a very positive way on pupil outcomes and prepares them for the next phase in school.  
At Great Chart, we value the importance of developing the children's knowledge, together with their skills. As a result of this our pupils achieve well, gaining excellent results which will prepare them to be school ready.
Early Reading
At Great Chart Primary we view reading as a fundamental life skill. We believe that reading is one of the core learning approaches and helps children to broaden their vocabulary, develop a good imagination and readily access other curricular areas.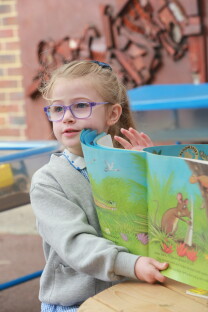 Therefore, reading is given high priority and all children are helped to foster a genuine love of books. Each child receives focused guided reading sessions each week that not only teaches the skills associated with reading, but also builds on comprehension skills and allow discussion to take place. Teachers regularly read books to the children and develop knowledge of authors and genres.  Older children are taught to be reading buddies and listen to younger children read. We encourage parents to read with their child at home on a regular basis, which is monitored through the use of a home/school reading diary.
At Great Chart Primary reading is taught using the Rocket Phonics programme.  Using phonics enables the very youngest children to succeed with reading as they quickly learn to recognise, identify and blend letter sounds for reading.  We use a variety of books linked to our phonics programme.
Reading Progression
Through discrete phonics sessions that follow Rocket Phonics, one-to-one reading with an adult and guided reading, we teach our youngest children how to decode the written word, whilst building a greater understanding of comprehension as children develop through listening to books being read aloud, investigating them together in guided groups, or working together as a class on shared activities. We develop greater understanding through detailed exploration of whole books, short texts, art work, videos and music, encouraging children to play an active role in the reading process through an understanding of what makes a 'good comprehender.' Staff are reading roles models who demonstrate and encourage a love for reading, and children have access to a wide variety of reading materials through the school library, visiting authors, book fairs and the carefully selected texts used in the teaching of English. Staff track the progress of children throughout the year, ensuring that each child is supported and challenged to read at their appropriate level, whilst also celebrating progress both in class and on a whole school level.